"In part, we made that decision to help remove one of the main obstacles to REDD, namely, the lack of unrestricted capacity to baseline, measure and monitor deforestation and forest degradation.""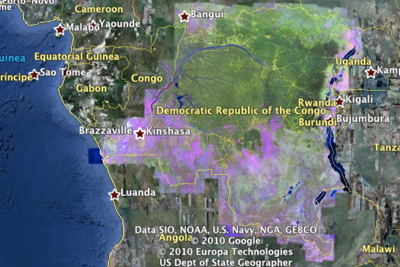 Democratic Republic of the Congo Forest Cover Loss, 2000 to 2010. Over 8,000 Landsat images were processed to make this product
From Mongabay.com
The images of our planet from space contain a wealth of information, ready to be extracted and applied to many societal challenges," wrote Moore in a post on the official Google blog. "Analysis can transform these images from a mere set of pixels into useful information—such as the locations and extent of global forests, detecting how our forests are changing over time, directing resources for disaster response or water resource mapping."
"The challenge has been to cope with the massive scale of satellite imagery archives, and the computational resources required for their analysis. As a result, many of these images have never been seen, much less analyzed. Now, scientists will be able to build applications to mine this treasure trove of data on Google Earth Engine."
Presenting at a side event at UN climate talks in Cancun, Mexico, Google said highlighted several advantages of
Earth Engine
, including 25 years of Landsat satellite imagery, tools to remove cloud and haze from pictures, and opportunities for collaboration across a common platform.
Harnessing Google's computing cloud also greatly accelerates data processing. For example, researchers used Earth Engine to create a detailed forest cover and water map of Mexico in less than a day, a feat that would have taken three years using a single computer. Google plans to donate 10 million CPU-hours a year over the next two years on the Google Earth Engine platform.
So far,
Earth Engine
is being primarily used to support development of systems to monitor, report and verify (MRV) efforts to stop deforestation, which globally accounts for 12-18 percent of annual greenhouse gas emissions. Google and its partners believe Earth Engine will improve transparency around land use and help developing countries capitalize on the proposed reducing emissions from deforestation and degradation (REDD) program, which could generate billions in funds for conservation and sustainable use of tropical forests.
"If we can't observe, measure and monitor the global environment across different spatial and temporal scales; we will not be able to wisely manage our way out of the global environmental predicament that we've created for ourselves and many other expressions of life in this planet," said Luis Solozano of the Gordon and Betty Moore Foundation, which helped support the initiative. "We have given first priority to enhance the ability to monitor the extent and change of tropical forest. In part, we made that decision to help remove one of the main obstacles to REDD, namely, the lack of unrestricted capacity to baseline, measure and monitor deforestation and forest degradation."
Carlos Souza, a senior researcher at Imazon, one of the organizations that piloted-tested Earth Engine, told mongabay.com the new platform will greatly expand the areas monitored in Brazil.
"Now we can monitor all of Brazil's territory, not just what is happening in the Amazon," he said. "We still need a lot of work to calibrate but all the data is there and it is very fast."
"Brazil needs to better monitor biomes outside the Amazon rainforest."
Google's Moore (no relation to the Moore Foundation) said Earth Engine offers opportunities in areas beyond forests.
"We hope that Google Earth Engine will be an important tool to help institutions around the world manage forests more wisely," wrote Moore. "As we fully develop the platform, we hope more scientists will use new Earth Engine API to integrate their applications online—for deforestation, disease mitigation, disaster response, water resource mapping and other beneficial uses."
Click here to go to Google Earth Engine