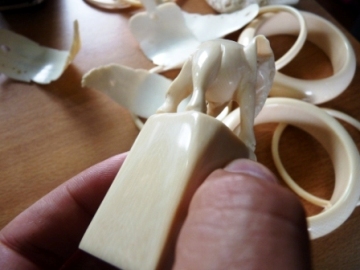 Ivory pieces confiscated by Republic of Congo authorities in Saturday's bust.
Photo by: Naftali Honig (PALF).
From mongabay.com
by JEREMY HANCE
A Chinese national was caught attempting to smuggle 22 pounds (10 kilos) of ivory out of the Republic of Congo on Saturday, according to the AFP. Officials confiscated five elephant tusks, 80 ivory chopsticks, 3 ivory carvings, and a number of smaller ivory-made items.
The suspect was taken into custody at the Maya-Maya airport in the Republic of Congo's capital, Brazzaville.
"We vowed to help the government of Congo send a zero tolerance message to ivory traffickers, and as you can see this message is in action," Naftali Honig, head of the Project to Apply the Law on Fauna (PALF), told the AFP. A Brazzaville-based NGO, PALF is working to build the capacity of Congolese authorities to enforce wildlife laws, which have long gone ignored in the central African nation.
PALF has been involved in a number of seizures, including catching illegal wildlife traders dealing in leopard skins, ivory, and living chimpanzees and gorillas for the illegal pet trade. The chimpanzee dealer became the first individual sentenced for wildlife trafficking in the Republic of Congo. He was sentenced to a year in prison.
"We work with investigators and local authorities to catch criminals in the act and then follow the legal proceedings to ensure that they don't use a phone call, a bribe, or anything of that nature to illegitimately get themselves off the hook," Honig explained to mongabay.com in an interview last February.
In its first year, PALF conducted 17 investigations resulting in the arrests of 19 alleged traffickers. The program was developed by the Aspinall Foundation and Wildlife Conservation Society.