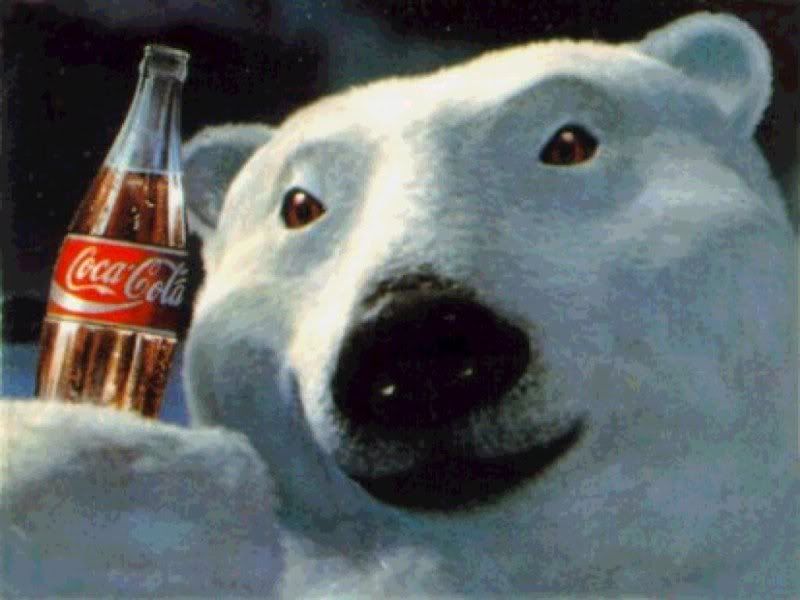 via the
workcabin.ca facebook page
Coca-Cola Ltd. today announced details of its ongoing commitment to WWF-Canada's polar bear conservation efforts. In celebration of the Vancouver 2010 Olympic Winter Games, Coca-Cola will double last year's $100,000 contribution through its holiday program by contributing $200,000 to WWF-Canada's efforts in 2009.
"Global climate change is an important issue that impacts all of us," said Bobby Britain, VP Sparkling, Coca-Cola Ltd. "By continuing our partnership with WWF-Canada we are making a commitment to do our part to slow climate change and support the polar bear population in Canada."
As part of the 2009 holiday campaign, Coca-Cola is asking Canadians to help protect the polar bear
by going to icoke.ca and entering icoke PINS found on specially marked Coca-Cola beverages. For every PIN entered, Coca-Cola will make a cash donation to WWF-Canada, up to a total of $100,000. Coca-Cola will also be matching individual consumer donations to WWF, up to a total of $75,000 and will make a $15 contribution to WWF for each holiday eGift redeemed on icoke.ca, up to $25,000.
Canadians who enter eight PINs on icoke.ca can redeem them for one of three Coca-Cola Olympic Games Bears. The plush polar bears, made from 100% recycled PET, serve as a Vancouver 2010 Olympic Games collectible item and a reminder of the impact climate change is having on our polar bears.
"This is an important year for the Arctic and for polar bears," said Gerald Butts, President and CEO, WWF-Canada. "We are pleased to work with Coca-Cola to raise awareness and encourage Canadians to take action."
Since 1912, polar bears have symbolized the joy of coming together in Coca-Cola campaigns around the world. However, experts predict that if current climate trends continue, polar bears could become extinct by the end of this century. Through Coca-Cola's multi-million dollar holiday program, the company hopes to increase awareness of polar bear threats and encourage support for WWF-Canada's efforts.
The holiday campaign will be seen on TV, in cinema, in-store and on specially marked beverage packaging from the beginning of November, 2009 to January 5, 2010.
Coca-Cola is supporting its commitment to the environment by working with WWF-Canada to:
- Conserve freshwater resources in Canada
- Improve efficiency of the company's water use and decrease the
company's greenhouse gas emissions and energy use
- Inspire and engage Canadians to fight climate change and live
sustainable lives
*UPDATE*
editor's note: as a caveat a friend of mine pointed out the following:
"Well, this is a typical ethical dilemma in the world of conservation. Coca-Cola doesn't exactly have a great environmental track record ( e.g.,
http://news.bbc.co.uk/2/hi
/south_asia/3096893.stm)..
.the question becomes, do we, as consumers, support a company that we know is (probably intentionally) damaging the environment in one part of the world
, but donating money to protect the environment in another part of the world. Like BP - many conservation organizations and scientists get funding from BP, but, let's be clear - BP has a terrible environmental record. Do we forgive companies if they donate to our cause? I don't know the answer.

Also see:

http://health.yahoo.com/ex

perts/drmao/20270/what-sof

t-drinks-are-doing-to-your

-body/"