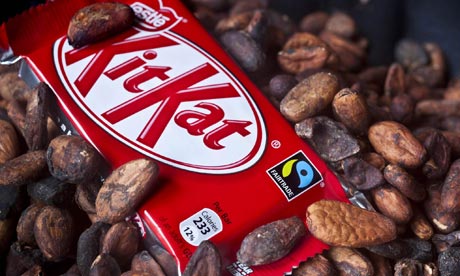 Have a break - have an ethical Kit Kat
from
the Independant
By Martin Hickman, Consumer Affairs Correspondent
Nestlé are to convert the cocoa supply for its iconic bar to fairtrade producers
Nestlé, the world's biggest food company, is to pay poor cocoa farmers more for their beans by switching its best-selling Kit Kat chocolate bar to Fairtrade.
Emrbarking on what its UK chocolate boss described as an ethical "long journey", the four-finger Kit Kat will carry the Fairtrade logo from next month. Over the next two years the two-finger and other versions of the £183m-a-year bar will make the switch.
More than 8,000 cocoa farmers in Côte d'Ivoire (formerly Ivory Coast) will benefit from the decision, receiving an extra $150 a tonne, 4 per cent above the $3,384 world price.
They will also be able to sell their cocoa more directly to Nestlé and receive advice from the Swiss giant on raising yields and quality, which will further increase returns.
Nestlé said the extra money would fund education and healthcare in the West African state, which is recovering from the 2002-2007 civil war.
For the coffee-to-cereals multinational, the deal will help boost the supply of cocoa. Prices have spiralled to a 26-year high because of investor speculation and the failure of benighted producers such as those in Côte d'Ivoire to meet rising global demand.
Nestlé's decision will also help it improve its chequered reputation for ethics. In the 1970s and 1980s consumers boycotted the company, which makes Nescafe, Perrier and Cheerios, over its promotion of baby milk formula in Africa. The protests have fallen away in recent years with the adoption of a marketing code of conduct.
Kit Kat is the latest example of Fairtrade being "mainstreamed" following Starbucks' decision to convert its espresso beans, Tate & Lyle its retail sugar, and Cadbury its Dairy Milk, the UK's best-selling chocolate bar.
It came about after Nestlé Confectionery UK's managing director, David Rennie, visited Côte d'Ivoire in October. Asked to describe life for cocoa farmers there, he said: "They're not going hungry and they're not going thirsty but they live in a way in which the crops they produce are very important.
"The nearest school could be 20 or 30 miles away and they have no transport, so getting local village schools where kids can get literacy and numeracy skills without embarking on massive treks is really important.
"And the fact that we can go in and help them build schools and can give help on the ground was enlightening and heartening for me."
Only Kit Kats sold in the UK and Ireland will go Fairtrade, but Mr Rennie would not rule out other Nestlé chocolate brands following.
"In the UK we have started with as much of the Fairtrade cocoa from our co-operatives as we can get. And every single year we hope to get more of that and get it moving across all of Kit Kat," he said.
"We're putting no end point on this. As the cocoa supply develops, we want to continue our work on the Ivory Coast to support those farmers." Harriet Lamb, director of the UK-based Fairtrade Foundation, said the higher prices would "give a break" to the farmers of Côte d'Ivoire. "If any farmers need this kind of break, it's the farmers in Côte d'Ivoire," she added.
Nestlé sells one billion KitKat bars in the British Isles each year, which makes up 23 per cent of its UK confectionery sales. It and other leading chocolate bars will still contain palm oil, which is linked to human-rights abuses, deforestation and the loss of wildlife in South-east Asia. In October, Nestlé committed itself to buying only supplies certified by the Roundtable on Sustainable Palm Oil by 2015. "The commitment is the company moves by 2015 and I think for the whole company to get there by 2015, markets and product categories will get there quicker.
"So that's the end point, it's not the beginning point," said Mr Rennie, who described the Fairtrade commitment as part of a "long journey".
Thanks to Chrissie E. for the link